The quick-drying adhesive online glue applicator line consists of the following parts:
1. Synchronous belt precision line.
2. Peristaltic dispenser.
3. Online precision robot.
4. Multi-directional sensor
The customer's rubberized products are glued to the earphone casing, and the glue is instant glue. Our engineering design synchronizes with precision assembly line with high precision manipulator. When the product flows over, the robot starts to dispense after induction, and finishes the glue after the assembly line. Continue to flow forward, and complete these actions in a cyclical manner during work. The main parameters of the online glue applicator are as follows:
Online assembly line automatic dispensing machine basic parameters
Brand model number
Aosong Automation Co., Ltd. non-standard custom
voltage

AC220V 50HZ 100W

stroke

X

axis 300-500mm / Y axis 300-500mm / Z axis 100 mm
exercise system
Servo motor + precision screw
Control System
Professional dispenser motion controller
Editing system
Key point teacher
External interface

RS-232 USB2.0

Maximum speed

800mm/sec

positioning accuracy

0.02mm

Repeatability

0.02mm

Load

X、Y

axis

8 kg/Z

axis

5 kg

Control mode
Point, line, three-dimensional line, circular interpolation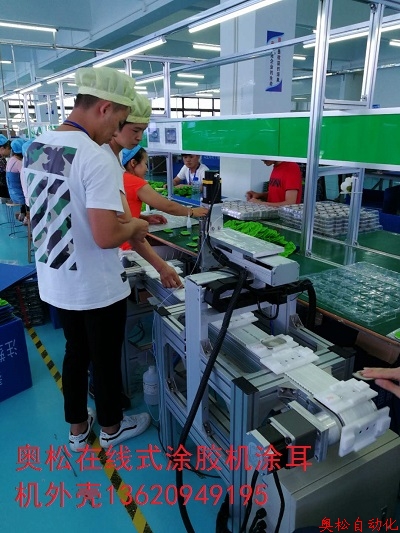 Online line automatic dispensing machine Applicable products: mobile phone button dispensing, mobile phone battery packaging, laptop battery packaging, coil dispensing, PCB board bonding sealing, IC sealing, speaker outer ring dispensing, PDA sealing, LCD sealing Glue, IC packaging, IC bonding, chassis bonding, optical processing, mechanical sealing, etc.
Online line automatic dispenser for colloids:
Silicone, EMI conductive adhesive, UV adhesive, AB adhesive, quick-drying adhesive, epoxy adhesive, sealant, hot glue, grease, silver glue, red glue, solder paste, thermal grease, solder paste, transparent paint, screw fixing Agent
Online line automatic dispensing machine After-sales service: one year warranty, lifetime maintenance.
Dispensing machine Glue filling machine For inquiries, please contact: 18926429926 Online QQ: 676565589, www.szaosong.com